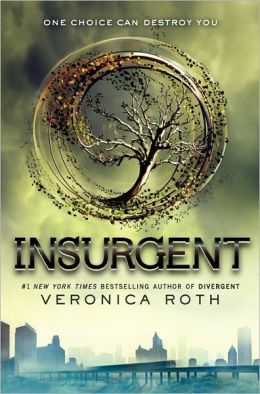 Book: Insurgent by Veronica Roth
Description:
One choice can transform you—or it can destroy you. But every choice has consequences, and as unrest surges in the factions all around her, Tris Prior must continue trying to save those she loves—and herself—while grappling with haunting questions of grief and forgiveness, identity and loyalty, politics and love.
Tris's initiation day should have been marked by celebration and victory with her chosen faction; instead, the day ended with unspeakable horrors. War now looms as conflict between the factions and their ideologies grows. And in times of war, sides must be chosen, secrets will emerge, and choices will become even more irrevocable—and even more powerful. Transformed by her own decisions but also by haunting grief and guilt, radical new discoveries, and shifting relationships, Tris must fully embrace her Divergence, even if she does not know what she may lose by doing so. (from Amazon.com)
My Thoughts: Insurgent was just as good as Divergent!! It was a bit darker--Tris struggles with PTSD (post-traumatic stress disorder) because of everything that happened to her in Divergent, and for me this was the most believable and interesting part of the book. She underwent a beautiful journey of recovery, where she discovered that she wanted to live, what was truly important to her, and more about herself. Tris also handled her struggles very well, overall--there was little truly stupid behavior on her part, and by the end of the book she was back to doing what was right, despite the consequences to her.


Unfortunately, Four was pretty stupid for large chunks of this book--luckily not willfully stupid, he really did think he was doing the right thing. He just hadn't thought it through as much as he thought he had. I found him rather frustrating for most of the book.
Another fun, interesting book with a great cliff-hanger ending--I can't wait for the third book, Allegiant, to come out in October!!
Personal Note: Since reading Divergent and Insurgent, I've read a bit more about Veronica Roth, and I really like what I've seen. She's a Christian--quietly, but obviously quite publicly--and I think this worldview shines through in both what she writes and her public persona. I've really enjoyed reading through her blog (veronicarothbooks.com).